Adding some cultural spice to Cockburn!
Connecting Community for Kids embarked on a series of free Cultural Cooking Classes at various Centres around Cockburn, all thanks to grant funding provided by City of Cockburn!
The program commenced at South Lake Ottey Family and Neighbourhood Centre on Saturday 9th June, with a Filipino inspired spread. Volunteer chefs Melanie Endaya and Maureen Madolora prepared Philippine Adobo alongside participants ranging in age from 3 to 60. The group then enjoyed making Biko; a sweet rice cake made of coconut milk, brown sugar and glutinous rice, topped with latik.
Attendees had a blast in the preparation area peeling potatoes and cutting onions. Small groups took turns in the kitchen carefully and consistently stirring the Biko liquid to ensure the coconut milk and sugar did not burn or curdle. The chicken was left to marinade in garlic, onion and soy sauce for half an hour, so the kids took a break making traditional Filipino Christmas lanterns "paról" and playing Uno and Snakes and Ladders. Once everything was cooked, the group was able to sit down for a quick bite for lunch. Maria Georgiou kindly donated Kiddie Food Cutter knives so children were able to participate in the preparation and keep their fingers safe. Coolbellup IGA also kindly donated food for the classes.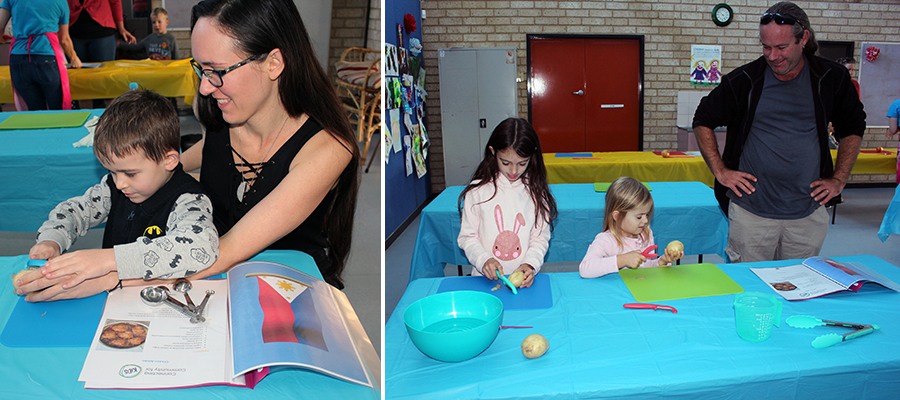 The classes continued at Meerilinga Children and Family Centre on Saturday 23rd June featuring Indian and Sri Lankan inspired cooking. The group prepared Sri Lankan Chicken Curry and milk rice Kiribath, alongside volunteer cooks Pravinthi Neelawatura and Shakunthi Neelawatura.
On Saturday 30th June, guest chef Marissa Verma from Bindi Bindi Dreaming showcased the lovely native herbs and spices from Australia. Participants prepared damper to taste test with native jams, made kangaroo burgers and wedges and enjoyed a seasonal fruit salad and lemon myrtle cake. Marissa was fantastic in imparting her knowledge of bush tucker and teaching seasonal usage of different herbs.
On Saturday 7th July at Yangebup Family Centre; attendees prepared Malaysian fried rice, curry and chapatti, kindly demonstrated by volunteers Huey Teoh and Kim Teoh.
These Cultural Cooking Classes are part of Connecting Community for Kids Celebrate Culture community approach. Belinda Ngoroyemoto, Cockburn Community Facilitator for Connecting Community for Kids explains "the Celebrate Culture approach provides opportunities for individuals from various ethnic groups to share their knowledge, traditions and values to the wider community. By conveying diverse wisdom and experience, we aim to raise cultural awareness, reduce isolation and increase inclusion and education."
The Celebrate Culture Action Team is now evaluating the series of Cultural Cooking Classes and will be brainstorming 'what next' in sharing the unique cultures that influence Cockburn. If you are interested in joining the Celebrate Culture Action Team and imparting your cuisine, customs, background and traditions to the wider community, please contact Connecting Community for Kids today on 0429 904 324 or info@connecting4kids.com.au.